If you're a beginner looking for a clear path to make honest money online, the Brambila Method 2.0 is for you.
Have you already made some money online, but don't have a clear path forward? Brambila Method is also for you.
Brambila Method 2.0 released in June 2022 and is a massive level up from the 1.0 version. It comes with 60 all-new videos, expert guest speakers, and downloadable worksheets. It has all the information you need to make real money online. The only income limitation is your time, effort, and commitment.
What The Brambila Method 2.0 Will Teach You
If you watch all the videos and do the work, you'll make a real income in time. You'll come out of the Brambila Method with many potential income streams to build upon.
Adrian teaches you how to monetize yourself and your skills in buildable ways. He teaches side hustles to make money
quickly
, generate leads, and
ethically
upsell. He provides tools to help you work smarter, not harder, and push through your own mindset battles.
Get fast returns in the gig economy
Scale with A.I. and outsourcing
Teach for long-term passive income
Sustain your momentum with the right mindset
Build out your technical set-up
Become a short-form content creator
Create evergreen content that makes you money for years to come
Build an affiliate marketing website
Start right with affiliate marketing
What The Brambila Method 2.0 Won't Teach You
This is a beginner course. It does not include advanced marketing methods. Such as sales funnels, paid advertising, and email marketing.
If the Brambila Method impresses you, Adrian teaches higher level courses in his Casa de Brambila series.
Casa de Brambila are full-day live video sessions with Adrian along with access to his advanced affiliate bootcamp. These only happen every few months on different topics.
Adrian walks you through everything you need to know to do paid affiliate marketing. They cost more because they are worth so much more!
And if you missed a course that you wanted to see, you can buy the Casa de Brambila Replays here.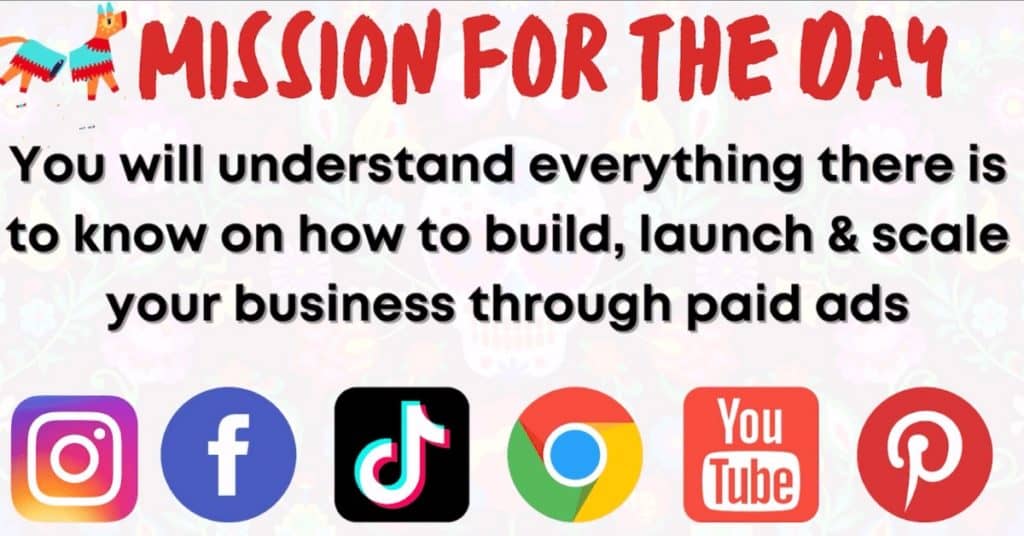 You Will Not Learn In Brambila Method How To:
Launch paid ad campaigns

Sales funnels

Email marketing

Advanced affiliate marketing techniques
Learn From Great People with High Ethical Standards
One day I found myself in the "make money online" underbelly. A world of unethical marketing tactics and "get rich quick schemes." All I could think was how grateful I am that I started in a program with such above board teachers.
Adrian Brambila and his business partner, Dom Bavaro, created The Brambila Method. You've
probably
only heard of Adrian, but Dom is the full package too. They both are masters of their craft and
exceptionally
generous with their time. They are also completely authentic and open. They're as real as it gets.
Adrian has been in the news and has huge followings on all the social media platforms.
He went viral on TikTok in 2020 for living in a van while making over $100,000 a month.
He started out over a decade ago making YouTube videos on how to dance the robot and never stopped. He now is an active affiliate for over 500 different companies and owns a digital marketing agency.
Dom dived into making money online out of desperation. His path was rough and he shares his whole story on his website.
He gave online money making his all. He dedicated himself and pushed through the tough times. He mastered all the skills needed to succeed.
His primary success is through mastering SEO blogging and is currently rocking it with Amazon Product Reviews.
The Gist – Adrian and Dom are the real deal.
You Are NOT Joining a Course to Sell The Course!
Have you seen all the people claiming they're making thousands of dollars from a $7 dollar course? What they usually won't tell you is that they bought a $2,000 (or higher) upsell within that course to get anything out of it. They also don't tell you that their primary revenue is selling the course that they got sold.
If it looks too good to be true, it

probably

isn't true.
The Brambila Method 2.0 Teaches You Actual Skills
Brambila Method is very different from those $7 courses. You'll learn multiple methods to make money online. You have to go through each section to get to the next so you really learn and ACT upon the lessons. You don't need to pay for an upsell to get anything out of the course. It's all there for you.
Adrian and Dom
specifically
created this course to NOT prey upon beginners. Instead, it's designed to make you money out the gate with great platforms that you can focus on with your own niche.
For many, promoting this course will not fit their niche.
The Brambila Method Facebook group is your sounding board, support system, and cheering squad
. It is a very active group of like-minded people. All trying to succeed online and supporting each other in the process.
I left Facebook in 2015 after the Cambridge Analytica scandal. I never planned to come back. But I thought this group would be worth it, and it definitely is!
(for those that also don't like Facebook. I joined with my business email address, don't post on my profile, and have all the privacy settings on.)
What You'll See in the Brambila Facebook Group
Requests for ideas and input with constructive criticism

Sharing frustrations and getting support

Solid recommendations for anything you need
What You Won't See in the Brambila Facebook Group
People promoting their products or services

Anyone sharing affiliate links
Why the Annual Membership?
If you didn't notice, heads up that the Brambila Method is an annual membership. They made it an annual membership because the online space is always changing.
Instead of paying for a course that might become outdated in a couple months, you get access to a year of course updates
.
I purchased Brambila Method 1.0 in February. So I
automatically
got access to Brambila Method 2.0 in June without paying anything extra.
There are pros and cons to this model.
You get a year's worth of course updates for your single payment. Your lessons will be relevant to whatever is working today.

Each update is revitalizing. This can come at opportune times in your money making journey when you may feel drained.

Your price is fixed to whatever price point you signed up at, which raises at each large update.

Each update is a deal at the current price point. So it is an absolute steal if you bought at a lower price point.

It's super easy to cancel before your year is up. Adrian's mom is in charge of customer support and she is a joy to chat with. You'll also get emails letting you know that you are up for renewal beforehand.
You will need to email customer support or reply to a renewal email to cancel your membership. Be sure to wait to get all the course updates you can before your renewal is up.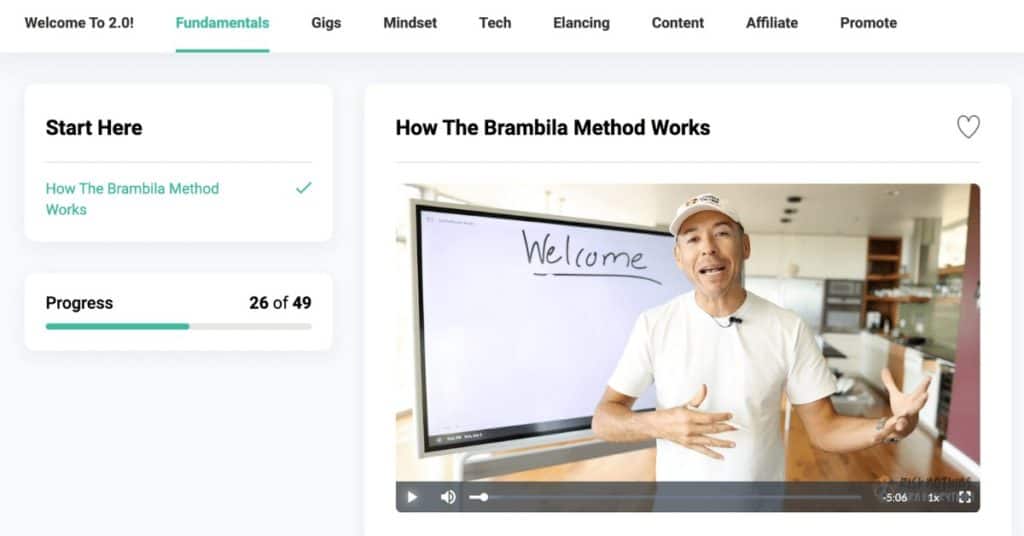 Breakdown of the Actual Course
Here's an overview of what each section is about. You have to complete each section before the next section will become available to you.
You start with a solid series on money making fundamentals. Even if you think you know this information already, there are gems in each of these videos. They build upon each other:
Traffic 101

Value Ladder
The Important of Leads
Language and Offers
Building a Brand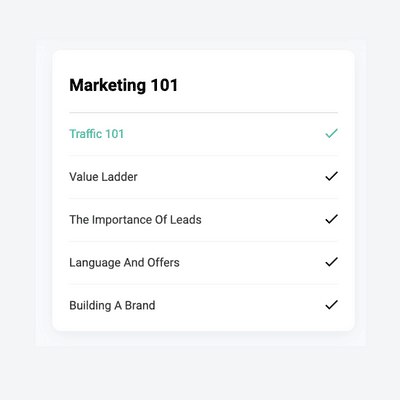 In these, Adrian and Dom get to the heart of all the concerns that are
regularly
repeated in the Facebook group. These videos will save you so much time and headache! You'll learn how to:
Shake off imposter syndrome
That there isn't such a thing as over-saturation online and how to find your people
How to share making money online authentically
I
greatly
appreciate that they put these videos near the start:
FAQ & Myth Busting

Imposter Syndrome
Entering the MMO (Make Money Online) Space

Correctly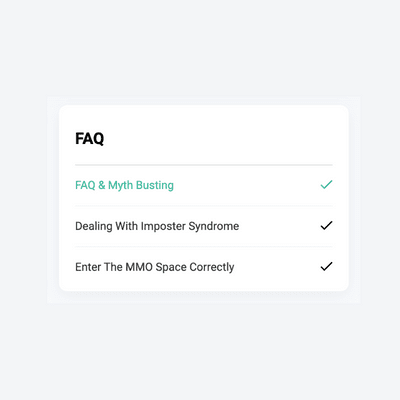 This is your first stab at making money online and it's solid. Not only do you learn how to succeed in the gig economy on Fiverr. You also learn how to use your gigs to upsell into far greater earnings off the initial order. The beginnings of your "value ladder."
Gig Economy Explained

Fiverr Walkthrough & Strategy

Creating Your Fiverr Profile

Creating Your First Gig

Gig Outro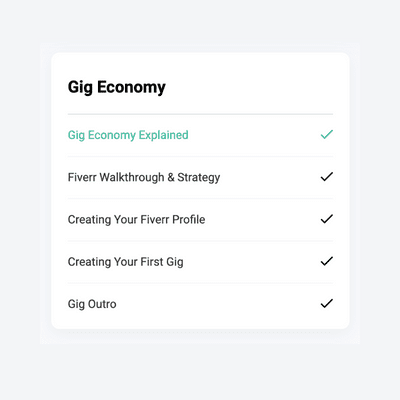 You learn how to use AI right now to write entire blog posts, books, Amazon Listings, and media content. You'll learn from two AI experts how to get exactly what you want out of Jasper, the top AI Platform. This is game changing.
Intro

What is AI
AI Fundamentals
AI Gig Idea Generator
AI Gig Recipe
Next Level
You can learn all the best tactics, but mindset is the key to success. It is where the game is won, or the game is lost. This series is with Adrian's Mindset coach, Jerome Wade and is powerful. There is an upsell in this if you want to dive in deeper.
Intro
Understanding Your Mindset
The Results Formula
Mindset Mastery Trifecta
Training & Coaching
Interview with Jerome On My Mindset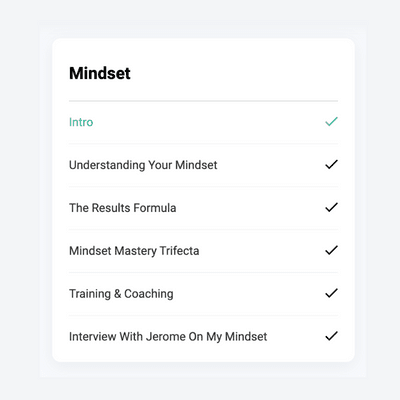 This is your next money making hustle. Adrian claims that "E-lancing is the most reliable and stable form of income you can get on the internet." In this section, you'll learn how to build reliable monthly cashflow on a few platforms. Specifically Upwork and Reddit.
Elancing 101
Tactics & Walkthrough
Finding Freelance Work on Reddit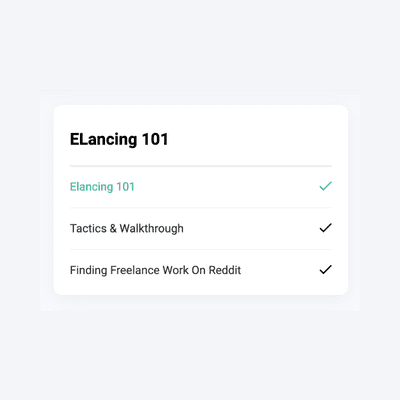 As you gain traction on Fiverr and Elancing platforms, it can become a lot of work. You aren't an employee anymore and you own your job, but it's a JOB. This section teaches you how to level up to becoming a business owner. You'll learn how (and where) to hire people and invest in systems that run your day-to-day tasks.
From Freelancer to Business Owner
Outsourcing 101
Hiring Your First VA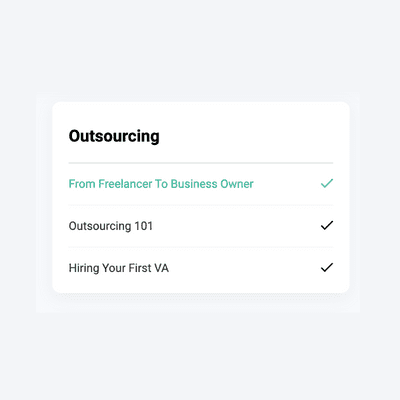 Becoming A Content Creator (4 Videos)
Did you know that you can make money full time through creating content? In these videos, Adrian teaches you how to do short form video content successfully. And he walks you through how to monetize you content. Through creator funds, brand deals, and affiliate marketing.
Content Creator 101
Content Creator Examples
Influencer Basics
Brand Deals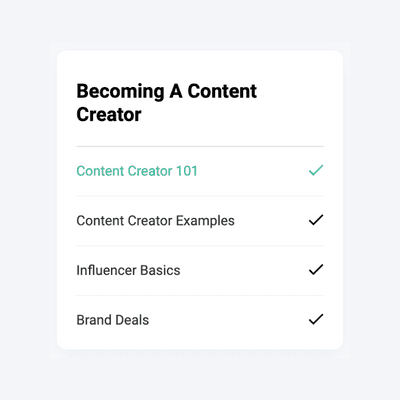 Mini-Class Creation (2 Videos)
Learning online has become the norm, turning online teaching into a multi-billion dollar industry. Creating mini-classes can give you long-term passive income if you do it right. This section walks you through how to figure out your offerings, how they might work in your value ladder, and how to successfully build them. The two main platforms are Udemy and Skillshare.
Intro & Overview of Teaching Online
Skillshare Walk Through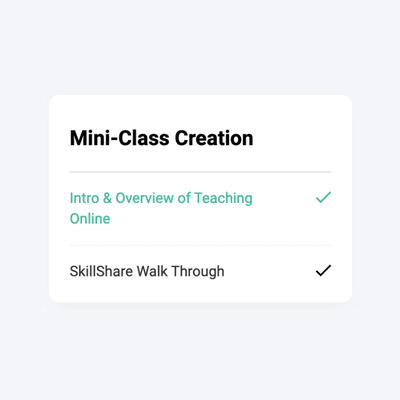 If you know anything about Adrian Brambila, you'll know that he is a master at affiliate marketing. This section was the biggest disappointment for me in Brambila Method 1.0 as it was mostly an upsell to an advanced affiliate marketing program. No upsell this time! Instead, he dives into what you really need to know about how to start in affiliate marketing.
What is Affiliate Marketing?
What Makes A Good Affiliate Program?
How To Find Affiliate Products
Applying to Affiliate Programs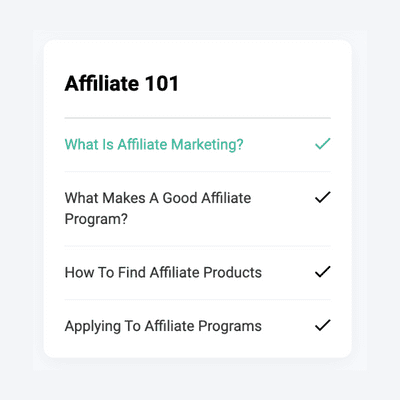 This section is worth the entire cost of the course by itself! Hands down my favorite section and what I joined Brambila Method 1.0 for in the first place.
You'll learn two evergreen ways to become a successful affiliate marketer:
How to do product reviews that get traffic and clicks

How to create affiliate guides that will make you money for years to come
Like everything in this course, these aren't easy and take a lot of effort on your part. BUT they are proven models that I've personally had a lot of success with and am just beginning to implement.
Intro to Product Reviews

Product Reviews Walkthrough

Product Reviews Dom's Take

Affiliate Guide Overview

Affiliate Guide Walkthrough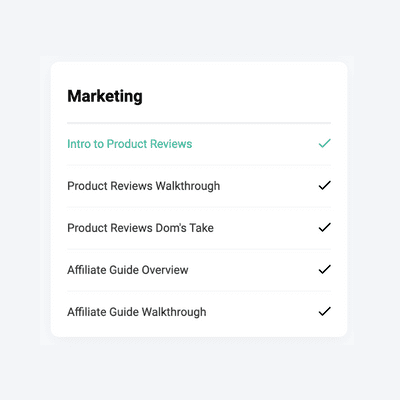 The conclusion isn't a quick wrap-up, but an 18 minute video pulling everything together.
Adrian brings you back to the value ladder and works through various examples of how you can build your online business. He drives the most important points home.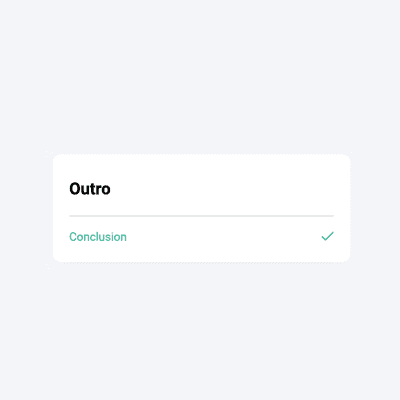 This bonus section will walk you through how to create your landing page and broadcast emails. Dom goes through actionable steps using ConvertKit (get a free account here). You get key pointers on how to succeed with your opt-in page and lead generation tactics.
Set Up ConvertKit
Landing Page Creation
Write Broadcast Emails
ConvertKit Domain Hookup.
Website Creation (15 Videos)
Yet another bonus section! This one is a deep dive into exactly how to build out your affiliate website. In this full walkthrough, you get step-by-step lessons on each part of creating your WordPress website.
The Importance Of A Website

Parts Of A Website

Domain Purchasing

Hosting

Custom Email Addresses

WordPress Install

Clean Up Stock WordPress

Setting Up Subdomains

Setting Up Cloudflare

Setting Up HTTPS

Building Compliance Pages

Theme Install

Install & Configure Plugins

Configuring Thrive Themes

Configure Rank Math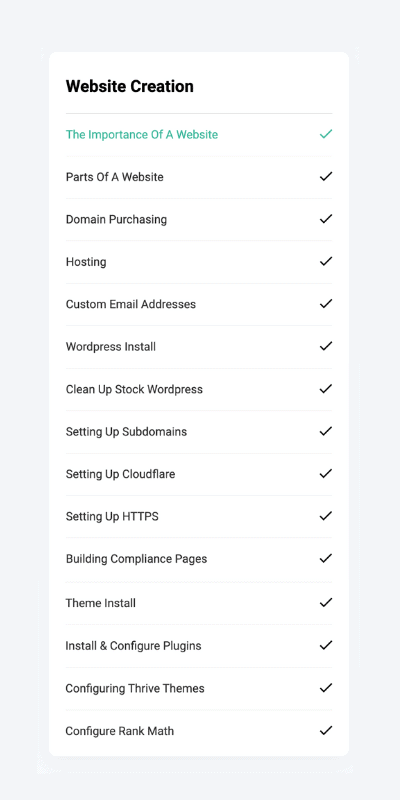 Done For You (Coming Soon)
The "Done For You" section will be an upsell where Adrian and Dom will create a full affiliate website for you. 
They'll be vetting potential customers as this won't be cheap. They want to make sure it won't clear out your savings as there are no guarantees. I'll share more once it comes up.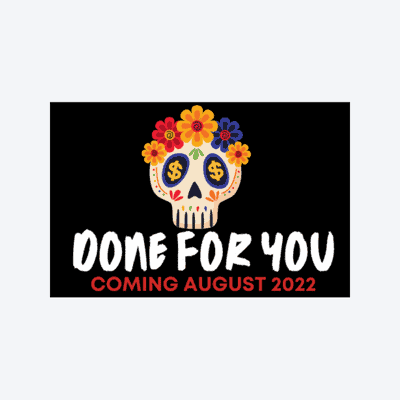 Promote the Brambila Method (1 Video)
This is the only section that disappointed me in the entire course. Why? Because anyone can promote the course without taking action on the lessons in the course.
In Brambila Method 1.0, you had to prove that you had made money with the course before you could promote it. I thought that was a key requirement as it made everyone ACT. 
When it comes down to it, the real lesson is to show up and take action every day. Learn and hone your methods as you go, but don't stop pushing forward. Hopefully most will take advantage of the amazing lessons to be had in this course.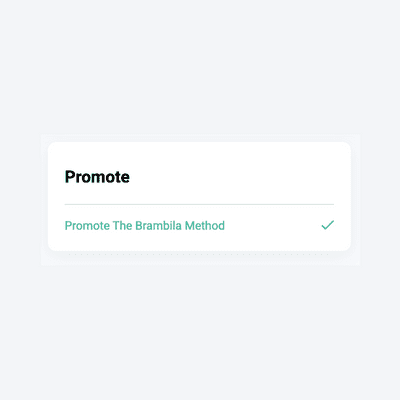 First 90 Days of Earnings From Current Members
Based on a survey of existing Brambila Method members (from the beta and 1.0 versions of the course), 95% of membership made at least $500 in their first 90 days.
If you go all in with this course, you will make your money back at a minimum. And you'll have potential to make so much more.
77% of active members made over $500 in their first 90 days.
12% of active members made over $10,000 in their first 90 days.
6% of active members made over $20,000 in their first 90 days.
How I Made over $4,000 in 90 Days with The Brambila Method 1.0
Brambila Method 1.0 began with learning about the gig economy with great, but less detailed videos than 2.0 gives you. Armed with those videos, I dove into becoming a Fiverr seller. My most successful gig was writing Amazon Listings using a tool called Helium 10:
$4,000 and 20,000 TikTok Followers in 3 months! I also began growing my email list, started this website, and am working (very slowly) on two other websites.
For many in the Brambila Group, this is nothing. For others, this is insane success. All I can say is that Brambila Method will give you back what you put into it. I have so many paths forward that it can be hard to prioritize with so little time to do it all!
The Brambila Method will give you clear actionable steps for making money online. These steps build upon each other, snowballing into higher incomes. But it is all about your mindset. Adrian knows this and has dedicated an entire section to it.
Some days it will be hard. But keep going back to the course videos, worksheets (almost every video has a PDF!) and the Facebook group when you're having a tough time. Keep reengaging. Keep trying. This course is your path to a full income online if you put in regular time.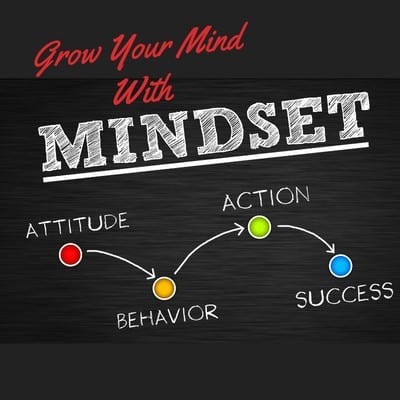 My Final Review of The Brambila Method
It took me a year of watching Adrian on TikTok before I finally took the plunge on this course. My only regret is not starting sooner.
Brambila Method 2.0 is worth quite a lot more than $297. If you are on the fence at all, now is your time to start. Learn more at the official Brambila Method 2.0 website. I can't wait to brainstorm ideas and celebrate your successes in the Facebook group!