Do you want to make some easy side money from your couch? This side hustle is all that and more for stay-at-home moms!
I know $500 isn't huge, but I made this without taking away time with my kids, my friends, and my spouse. I was able to workout, create this blog, and learn way too much about social media and video editing. The extra funds are more than enough to pay for all my operating costs and then some.
In 30 days, I hit all the goals to become a Level One Seller. That means I'll rank higher and be able to charge more. If only there wasn't a 60 day minimum 😅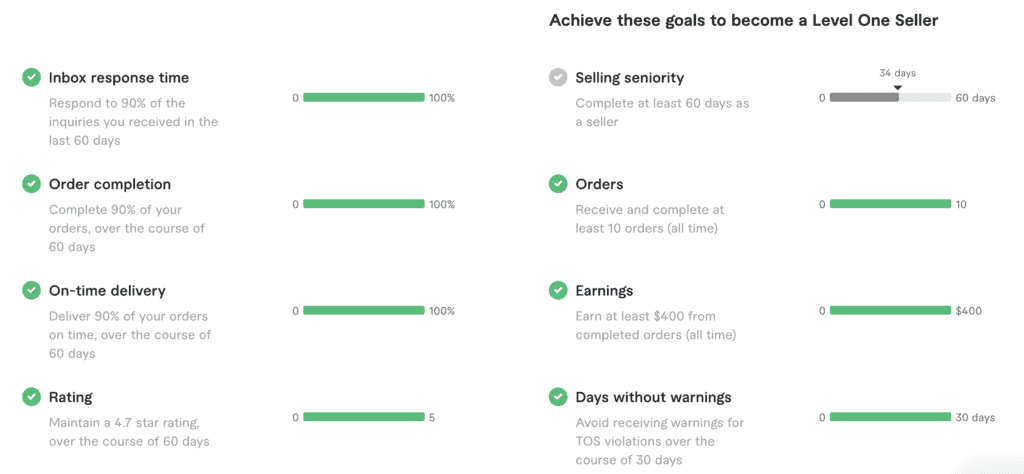 Money isn't all that Fiverr gave me in only 30 days:
I got paid to practice researching and writing optimized Amazon Listings. This gives me a head-start in working in SEO in general and when I want to sell on Amazon. Here's how you can too!
I had huge dopamine hits when I earned 5 star reviews (and tips!)
It gave me the momentum I needed to keep pushing forward on all my business fronts.
I started building passive income streams by upselling. Here's how upselling on Fiverr works.
I shook my imposter syndrome with those great reviews and repeat customers.
There were only a couple days when I didn't have a new gig and I felt those lulls. It felt like the quiet between songs while you're working out. Those times you had to push on your own. Even when Fiverr felt like busy work, it forced me to keep my momentum.
I'll keep growing and charging more on Fiverr as I rank higher. But it is only one piece of an ever-expanding pie of side hustles that build upon each other.
This can be your story too!
You can build your passive income while making some active income now. Follow me and I'll teach every side hustle as I do it!
I didn't learn how to use Fiverr and upselling in a vacuum. I give full credit to Alex Fasulo and Adrian Brambila. I started following both on TikTok over a year ago and watched them enjoy record profits. They excited me and made me want to start building income from home.
When Adrian offered The Brambila Method, I knew it was time for me to make the jump. Adrian's method walked me through proven side hustles and strategies. There are full tech walkthroughs. I also got to join a like-minded community to talk through ideas with.
If you want to kick-start your passive income business, go to my source: The Brambila Method.
The internet is vast. There's no such thing as over-saturation. 
All that stands in the way of your future success is your willingness to act right now.