Whether you are starting out or frustrated with your current hosting provider, this post is for you. In this DreamHost Review, you'll learn my top 5 reasons why DreamHost is right for your WordPress website.
I've used DreamHost since 2007! In all that time, they have remained consistent in their mission, quality, service, and price. I can't say that for any other service provider I use. You'll understand why I think DreamHost is stellar with these reasons.
Let's dive in.
2022 DreamHost Review Video
#5 Top Notch Customer Service
Like any active website builder, I run into weird issues on occasion. Every time I message DreamHost customer service, I have a fix within 20 minutes. That's unheard of. And I know that shouldn't be the case every time. I probably been very lucky in the times I've reached out, but it's still pretty incredible.
The last time I emailed DreamHost support was at 11:30pm about a security certificate that hadn't gone through. Within 12 minutes, the issue was resolved. I got an email letting me know what the hang-up was with a screenshot and thoughtful explanation. 
For the quality service alone, I will be a lifetime customer.
And don't take my word for it, it has over 3,000 perfect reviews on Trustpilot as well:

#4 Strong Community and Knowledge Base
DreamHost is not just any old web host. They are an award-winning WordPress host. Hosting over 1.5 million sites with over 400 thousand members. They're one of only four web hosts that WordPress itself endorses!
The DreamHost founders committed to open source from the start, way back in 1997. They have held to that commitment. The community is very active and open-source focused.
You can see all this on the DreamHost Community Forums. Be sure to check out the DreamHost Knowledge Base as well. It covers so much with incredible detail.
If you're looking to create a WordPress site, DreamHost is it. With over 750 thousand one-click installations, they have you covered. If you want to go beyond blogging, DreamHost has features for developers as well. From Ruby on Rails and MongoDB to Cloud servers.
The dashboard is clean and easy to understand. From searching and purchasing your domain to adding to your unlimited emails. You can
easily
do everything within one dashboard.
I've built websites for people and I've helped people with their websites. And a lot of them will be on cheap hosting providers that have terrible back-ends. It's very hard to understand what you're doing and, if you run into trouble, the customer service is subpar at best.
Here are some of the main sections to the DreamHost dashboard:
Search for any domain name you have in mind. DreamHost will give you suggestions along with availability. Purchase and it will automatically show up in your dashboard.
You can also easily add a domain that you did not purchase at DreamHost.
Control Hosting with One-Click
Once you own a domain, you can turn on/off hosting, redirect, park, or mirror your domain. All options are on one page. Changes occur within minutes.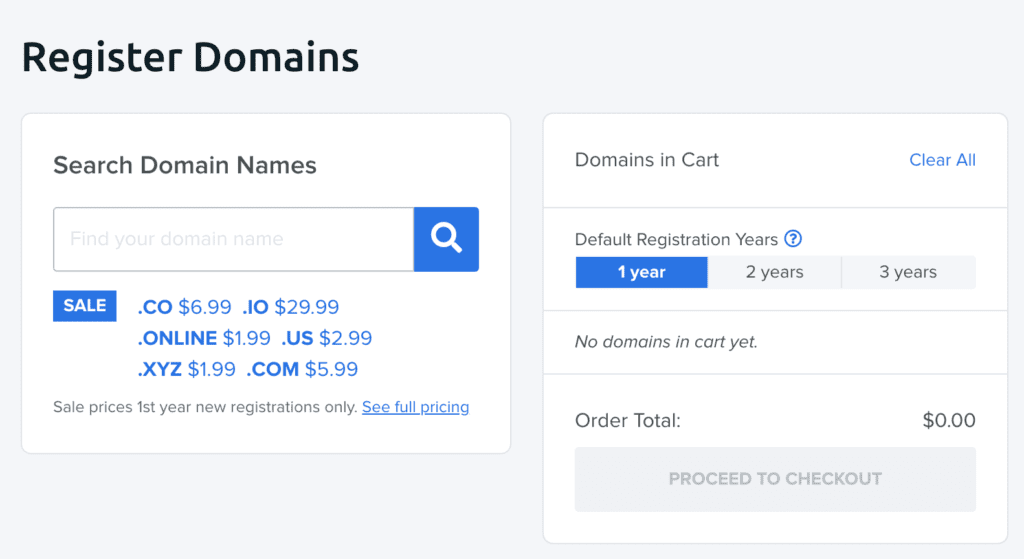 Install WordPress with One-Click
It doesn't get much easier than this. Tell DreamHost which domain you want WordPress installed on and it'll do it for you. You can include a deluxe installation, which will add great free plugins to get your site up and running in no time!
Remember that WordPress.org is free! After hosting, you can do everything on WordPress for free. This includes choosing from a variety for free themes and plugins to customize your website. That said, most themes and plugins have pro versions that give you more features. As you get more comfortable with using WordPress, you'll likely find features that are worth paying for….or you'll make it all work with the free options. The options are yours.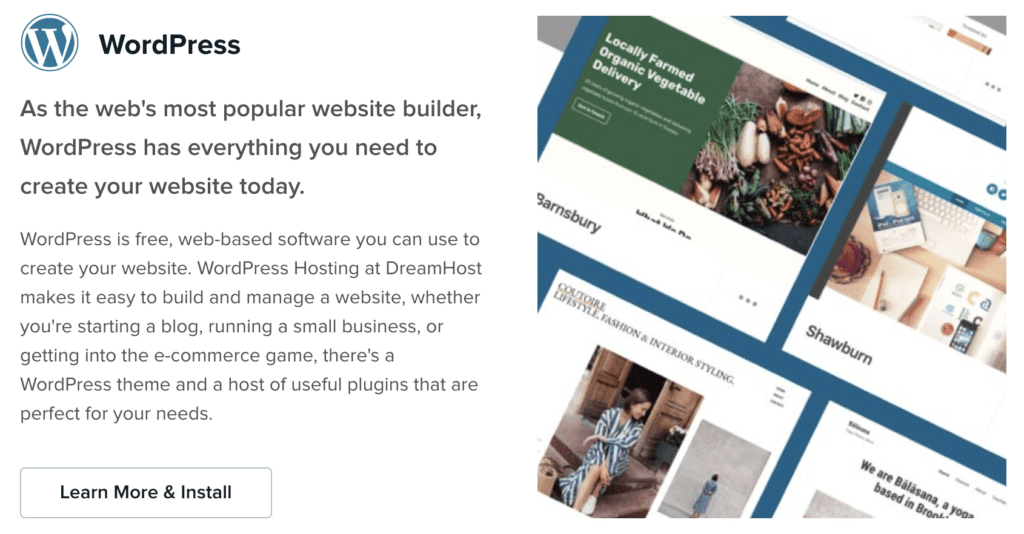 Add Unlimited Email Addresses
DreamHost will give you unlimited email addresses for each domain for free. You'll be able to access them using DreamHost's webmail or can set them up with any email application you choose, like Apple Mail, Outlook, Edison, etc.
If you prefer Gmail and want everything Google Workspace has to offer, there is a one-click install for this as well. Keep in mind that if you switch to Google Workspace, you won't be able to take advantage of the unlimited email addresses as Google will be hosting your email and charges per address per month.
Sometimes you'll need to access a file on your website. You can purchase an FTP application for this or I prefer to use the free WebFTP access provided by DreamHost. 
It gives you quick access to your files so you can download, replace, or edit them with ease.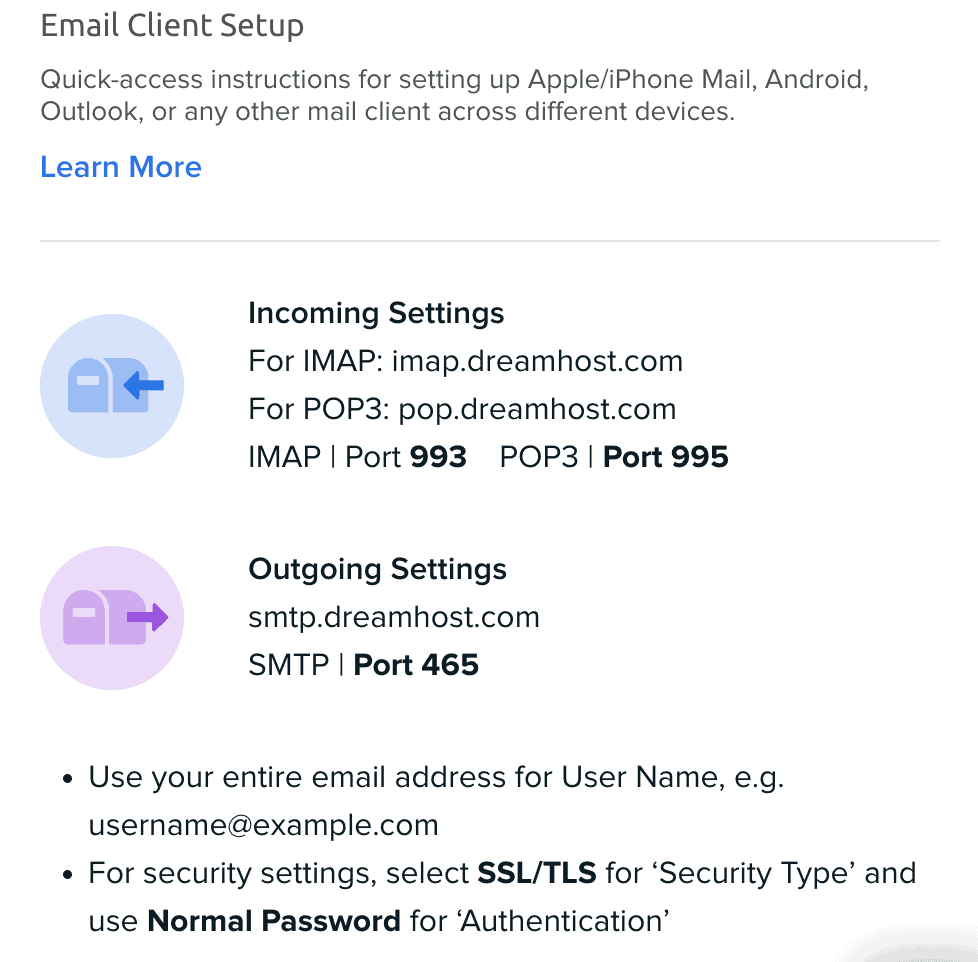 #2 100% Uptime Guarantee and Fast Load Speeds
DreamHost guarantees 100% uptime and will compensate you if your site goes down! According to most expert sites, DreamHost's uptime track record is one of the most impressive.
| Year | 2018 | 2019 | 2020 | 2021 |
| --- | --- | --- | --- | --- |
| Average Uptime | 100% | 99.96% | 99.99% | 99.99% |
DreamHost ranks in the top 7 fastest hosting providers every year. They store all data in SSDs, which are twice as fast as HDDs and their servers are optimized for WordPress. So your WordPress site will run like a dream on DreamHost!
Also, if your target audience is in the US, you'll get even faster load times. Both of DreamHost's data centers based in the US.
#1 Consistent and Fair Pricing
For over 15 years, DreamHost charged me the exact same price for my hosting package: $119.40 for a 1 year renewal of "My Crazy Domain Insane." This is now called the shared unlimited plan and it is definitely the plan I recommend.
The price finally went up in 2021 to $155.88. That breaks down to $12.99 per month.
For that, I get:
Unlimited

Websites

One Free

Annual Domain Registration
Unlimited

Traffic 

Unmetered

Bandwidth 

Unlimited

SSD Storage 

Free

SSL 

Unlimited

Email @ Your Domain

24/7 Support

An easy-to-use Dashboard

Various One-Click Installs
DreamHost Review Wrap Up - Get In On A Sale
DreamHost offers new hosting packages at a discount year-round. If they aren't offering at least 60% off, wait a week.
You can always switch off DreamHost if you want to and they give a full refund if you cancel within the first 97 days of opening your account. This is the longest money back guarantee I can find for hosting.
If you are a beginner or anyone who doesn't want to waste their time dealing with hosting issues, go with DreamHost. It's worth it.