Affiliate marketing and selling digital products are my favorite ways to monetize your WordPress website. Let me share why.
There are many ways to make money off your WordPress website:
Affiliate marketing

Digital products (PDFs, courses, ebooks, templates)

Digital services (freelancing, coaching, consulting)

Physical products

Print-on-demand

Advertising space

Sponsored posts

And much more
In this post, I'll dig into my top two monetization methods.
What is Affiliate Marketing?
Affiliate marketing is promoting someone else's product or service. You earn a commission for any sale through your promotion.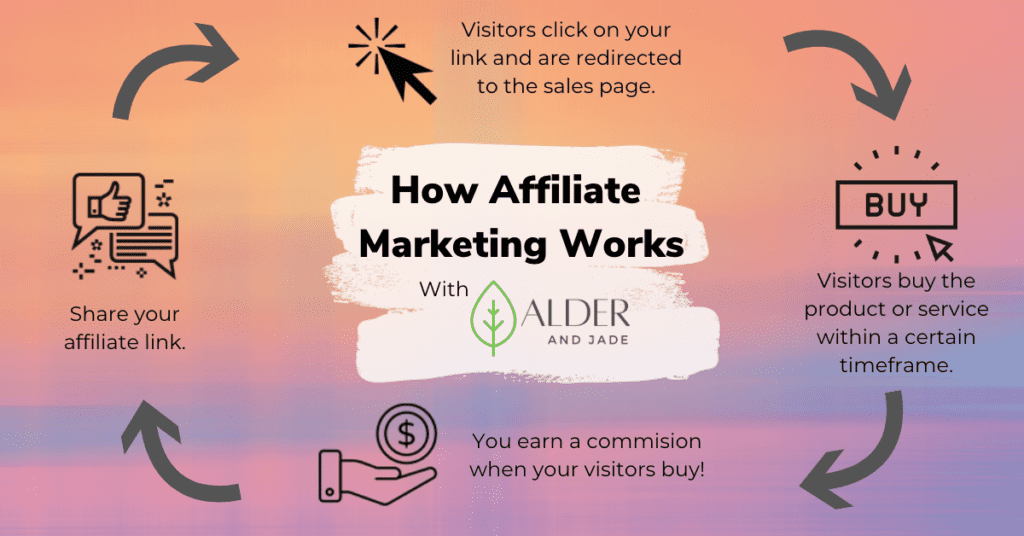 You start with a unique affiliate link. If people click on your link and purchase within a set period of time, you'll get a commission. It doesn't cost your audience anything and often you can give them a special discount as well.
The Pros and Cons of Doing Affiliate Marketing
Zero to minimal financial investment

Easy to start

High income potential in a

billion dollar industry

Complete flexibility

Work wherever you want

Can promote what you love

No inventory

No customer service
Commission-based

Takes time and patience

Requires regular upkeep

Can be very competitive

Many tools have steep learning curves
Companies have found that affiliate marketing can be cheaper than traditional marketing methods. Most companies will do a combination of traditional and affiliate marketing. The best ones will support you with courses and managers to help you succeed. Your success is their success.
Every affiliate program has its own unique structure. Make sure to think through their offer and if it is worth your time to promote them.
Affiliate Marketing on Your Own Site Versus Other Platforms
You can skip a website altogether and promote affiliate links through various platforms:
Social Media – Share links either in posts or through a link page in your profile. Be sure to pay attention to platform rules on affiliate links.
Paid Advertising – Run ads with your affiliate link or to a sales funnel where you can collect emails first.
Make an ebook – Sell ebooks or give them for free. Add links to affiliate products inside your ebooks.
Online Communities and Forums – Depending on the rules, you can share your links in communities you are active in. Be sure to be respectful.
YouTube – Huge potential for affiliate marketing. Share the products in video and include the affiliate links in the description.
Freelancing – Deliver your freelance work with a digital upsell.
Email Marketing – Collecting emails and sharing affiliate links to your email list is powerful.
Whatever combination you go with, I recommend building a WordPress website.
Pros and Cons of Affiliate Marketing on a Dedicated Website
It's your home base – You can add in any of the above methods to your website to help build your website authority.
Affiliate programs want it – Many affiliate programs will ask for your website. You can sometimes get away with sharing a social media profile page, but a website is a better bet.
Low stress – Unlike social platform, you won't lose your rankings if you don't post regularly. Each post is a stand alone opportunity to get views. They build upon each other to increase your website's domain authority over time.
Diversify your content – On your website, you can do blog posts, promotional link galleries, product reviews, resource pages, and so much more.
Low cost – By using a quality budget web hosting company and a free platform like WordPress, your website is budget friendly.
Greater reach – With solid SEO tactics, you can climb Google rankings on low-competition keywords and get more traffic on your website.
Long-term earnings – Most people don't go back and look at a TikTok you posted a year ago. But if they search for a product review and your review comes up, you still have the potential to earn income on that review years later.
My Favorite Hosting Platforms to monetize your WordPress website
Have to maintain – Your website will need updates. You'll need to do security updates and keep blog posts current.
Time consuming – Your affiliate links will often break over time. Unless you create pretty links, you'll have to spend a lot of time updating broken links.
Not all posts make money – This post will take me hours to create and is in a very competitive space. It is unlikely this post will ever rank in search results on its own. But I want to share a solid walkthrough and it can help my site's overall ranking.
What Are Digital Products?
I prefer digital products that you make once and sell over and over again. Some will need updates to stay fresh. Others are evergreen.
Examples:
PDFs – This is only limited to your imagination. Make annual calendars, coloring books, journaling activities, generic contracts,  signage, etc.

Courses – Teach anything you are already a master of or are willing to do the research on to provide a high quality course.

eBooks – Short stories, chapter books, children's books, activity journals, non-fiction, fiction, you name it.

Templates – A template could easily be a sales funnel template. Or a Google Sheet to organize events, budgeting, and projects. It could be a template for a particular software solution like Notion.
The Pros and Cons for Selling Digital Products
You own the process – You are selling your product, creating your customer base, and can build upon that.

Make a product once – One digital product can give you passive income forever if the content is evergreen.

You can repurpose – Upload your products onto multiple platforms.

You can do affiliate marketing within your digital products – Just add links!
Time consuming – It can take a lot of work to create a quality product.

Prove your market – While affiliate programs usually have a proven product, you have to find your market.

Customer service – You will have to deal with customers. Some will want their money back

Technical skills – If you build it on your website, you will need to find and set-up a tool to manage payment and delivery.
Selling Digital Products on Your Own Site Versus Other Platforms
You can promote digital products like affiliate programs, but you will need a landing page somewhere. This landing page (or purchase page) can be on an existing marketplace or on your own site. Here are some of the other sites you can sell digital products:
Digital product marketplaces – You can sell ebooks on sites like Amazon and various templates on Etsy and other marketplaces.
Online course sites – Udemy and Skillshare are popular sites where your courses will be promoted for you.
All affiliate outlets – Anywhere you can promote a product or service as an affiliate will work for your own digital products. Be sure to scroll up to look at those options.
With your own digital products, I encourage you to put them on your website and other platforms.
Pros and Cons of Selling Digital Products on a Dedicated Website
Authority – You build authority with your own website and can upsell products and affiliate links to your traffic.
Higher margin – Digital platforms take a large cut from your sales. You have greater control over how much money you make per sale on your website.
Organic ranking – People will find your product through Google search. With proper SEO and a solid niche, your digital product will get traffic organically.
Upsell potential – You can share other products and services on your website.
You have to do your marketing – Platforms like Udemy and Etsy pay to drive traffic to their sites. If you are only selling on your website, you'll miss out on those opportunities.
Need more tech skills – To sell on your website, you'll need to do a lot more to ensure your website is secure and that your sales automation works.
Maintenance required – Your website will need updates, from security updates to keeping blog posts and SEO current.
Must prove your market – Most companies with affiliate programs already have proven their market and are looking to expand sales. With your own products, you have to find your market and prove to them that your products are what they want.
There are endless ways to make money online. Even if you stick to affiliate marketing, it can become overwhelming.
I have two recommendations:
Stick with a single path for 2-6 months. Two examples:
Focus on one one affiliate program with various marketing methods. Don't add another program until you are making a consistent weekly income from the first program.
OR
Stick with one marketing method and promote a variety of affiliate programs.
You can dabble and research at first. But know that taking action is your only way forward. You'll learn a lot more once you start trying.
I've failed at this recommendation and have gone for too many "shiny objects" at once. It's overwhelming and I'm working to pull back to what matters. As I know that if I focus on one path, I'll succeed faster. So this is my recommendation to you (and to myself!).
Making money online is very possible and scalable. But it takes dedication for a long period of time. You'll run into your own mental hurdles and marketing challenges. Push through. Keep trying.
You only fail if you quit.
You got this.
May we all find great success online.