Ranking on the first page of Google search results will get you traffic and conversions. You can drive traffic to your page from other sources like social media and paid ads. But nothing is better than people finding your page when they are searching for answers. In this post, I'll give you the lowdown on how to rank in the top 10 Google search results.
Steps For How to Rank With Your Website
Pick a low competition niche.

Create quality content that is more optimized and comprehensive than competitors.

Build for user experience and speed.
In this very comprehensive post, I'll break down what you need to know.
Pick a Low Competition Niche
Before you start, you need to do solid keyword research. Some niches will have lots of low competition keywords and solid products you can market for rapid growth. Other niches will be extremely competitive and a slog to ever earn regular commissions with. 
Doing the research at the start will save you a great deal of time and money.
Find Profitable Keywords with Keyword Research
Finding and focusing on the right keywords is your key to making money with your website. Through keyword research, you'll find opportunities to rank and increase your traffic. It requires using a keyword research tool.
The good keyword research tools will help you understand:
How hard will it be to rank for a given keyword?

What related keywords should you include?

How many visitors will you get per month after your rank?

What will visitors expect on your site?

What topic should you write about?

Who are your competitors? What keywords are they ranking for?
Top Keyword Tools (with Free Trials)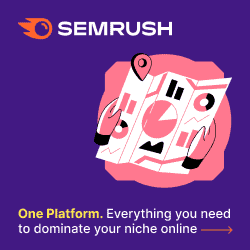 Semrush is a premiere tool for good reason. If you're serious about SEO, this is my top recommendation. You can always use it for a month and drop it until you need it again.
Definitely take advantage of their unlimited 7 Day Free Trial.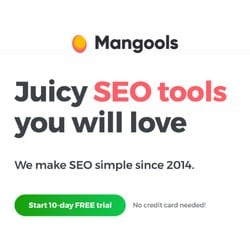 Mangools is an excellent budget option. It is the most user friendly option. You'll get the same colorful keyword rankings to find low competition keywords and get actionable results on improving your site with a low price tag. 
Google Keyword Planner is meant for Google Adword campaigns, but is great for finding low competition and related keywords for free. It doesn't compare to the paid options, but is far better than going in blind.
If you're on a tight budget, stick with Keyword Planner.
What is a Keyword and Which Keywords Do You Want?
A keyword isn't usually a single word. It is a phrase that someone searches for. Like "litter pan" or "large covered litter pan." Keywords with more than 3 words are long tail keywords. These usually have less searches and less competition.
When you search for keywords, you want to think about the intent of the keyword. This it will help you understand what the person is looking for.
Types of Keywords by Intent
Informational Keywords
– "where to put litter pans" – This search is for information on about using litter pans
.
Navigational Keywords
– "what size litter pan is best for large cats" – The searcher is thinking about buying a litter pan, but wants more information
.
Commercial Keywords
– "ModKat litter box review" – This searcher is ready to
purchase
, but wants a little more detail
. These are the best keywords for affiliate marketing. This individual is ready to make a
purchase
and your post could seal the deal.
Transactional Keywords
– "ModKat litter box coupon" or "where to buy a Modkat litter box" – Searcher has made their decision and is price shopping
.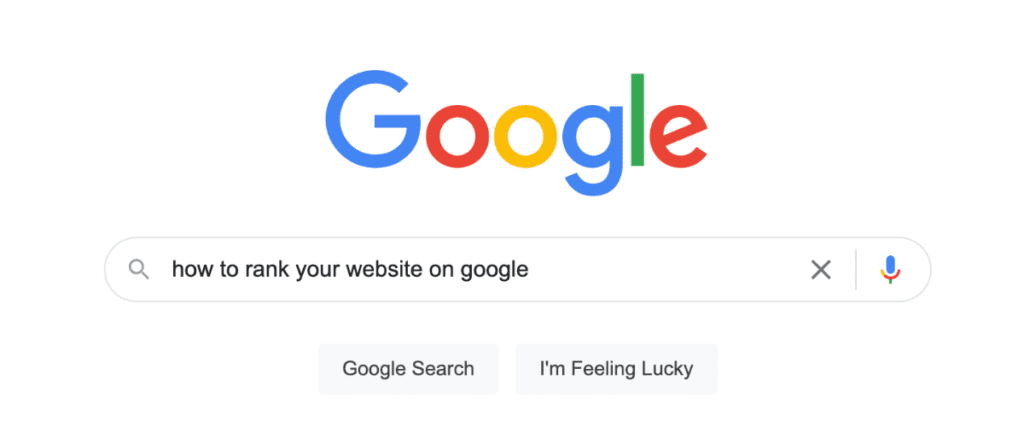 Low Keyword Difficulty – Depending on the tool, this is usually a score of 0-39.
Solid Search Volume – The higher the better – 100 is a good minimum.
Your Desired Search Trend – Pick keywords with seasonality and trends in mind.
Your Target Search Intent – Are you aiming for conversions or building a following?
CPC – If you have Google Adsense on your site with the keyword, you'll earn that CPC per click (roughly).
It's not enough to find low-competition keywords to focus on. You also need to research related keywords. These will go with each of your low-competition keywords.
You want two types of related keywords:
Proof Terms – Words or phrases that are essential to your topic. For example, you can't do a post talking about toothpaste without saying "brush" and "fluoride." These essential terms prove to Google that you know what you are talking about.
Relevant Terms – These show Google that your content is comprehensive.
All the top keyword tools I recommend will help you find related keywords. You can also build out your related keywords with a variety of free tools.
Free Tools to Find Related Keywords
Research all of the keywords you find and shortlist your findings to only the most profitable keywords. You'll use these keywords while creating your content.
Think Long Term to Grow your Domain Authority
As you're looking for keywords, think about your long term plan for your website. What is your niche? Who are your target customers? What are your goals? Do you have affiliate and digital products in mind? What are your target customers' goals? What are they searching for? Why and how are they searching?
Over time, you'll want to build out your site with a variety of posts that appeal to your target audience. Many posts will not promote any product at all. If these visitors spend time on your site and share your posts on social media, you'll improve ranking. You'll also build domain authority which will help your site rank higher over time.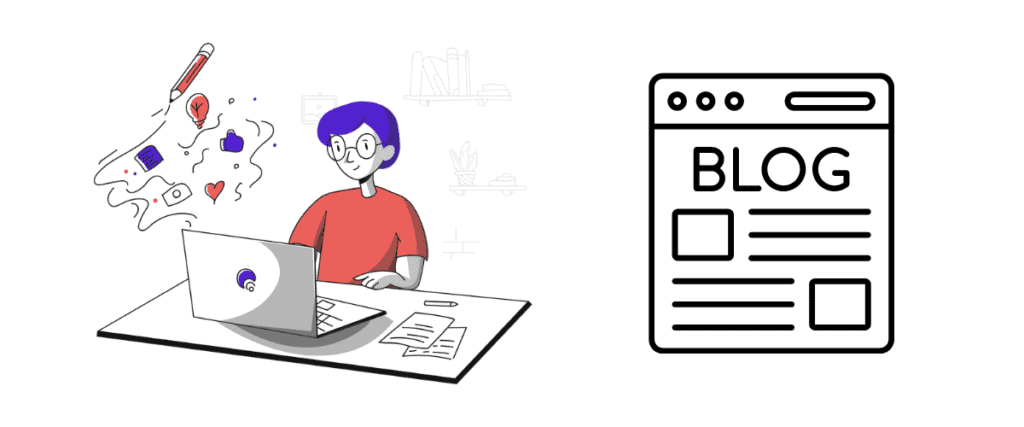 How to Write Your Profitable Blog Posts
You have all your low-competition keywords and related keywords. Now what? How do you turn those keywords into content?
Stick to only one blog post for each focus keyword so your posts don't compete with each other. This doesn't mean you can only write one blog post about a specific topic. It means that each post should have a unique goal. For example, if you were promoting ModKat litter pans, you could do posts on:
Best Covered Litter Pans for Large Cats

Modern Litter Pans for Urban Living

How to Prevent Litter Pan Smells

Modkat Litter Box vs Iris Top Entry

Covered vs Open Litter Pans

How to Litter Train a Cat
All these posts play well with each other. Interlink them to improve your website SEO. With internal links, visitors are more likely to spend more time on your website. You'll spread the SEO "juice" from a high ranking post to other posts on your website.
Do More Than the Competition
Before writing your post, search for your focus keyword and see what pages are in the top 10 search results. If your focus keyword has low-competition, you should see some posts in the top 10 that you can beat. 
Use a free extension like Keywords Everywhere to see what pages you can compete against.
For an example, I used Semrush to find a low competition keyword "spaceship litter box." It has a 2% or "very easy" keyword difficulty. If I were doing a website about cat products, I could use this to share a post about various spaceship litter boxes to drive those 210 monthly searches to my site. I could promote various spaceship litter boxes and see if I could get more leads. But first, I need to beat the competition…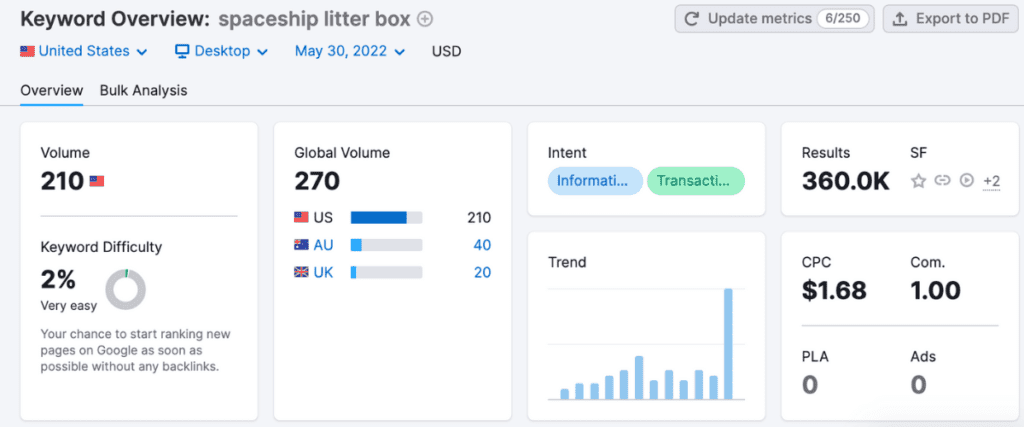 I search for "spaceship litter box" in Google. I work through the pages on the first SERP (search engine result page). Using Keywords Everywhere, I see that some of the top pages have low organic traffic, limited content, and few ranking keywords. These are easy targets. They did something well enough to rank while still weak enough that they're easy to beat.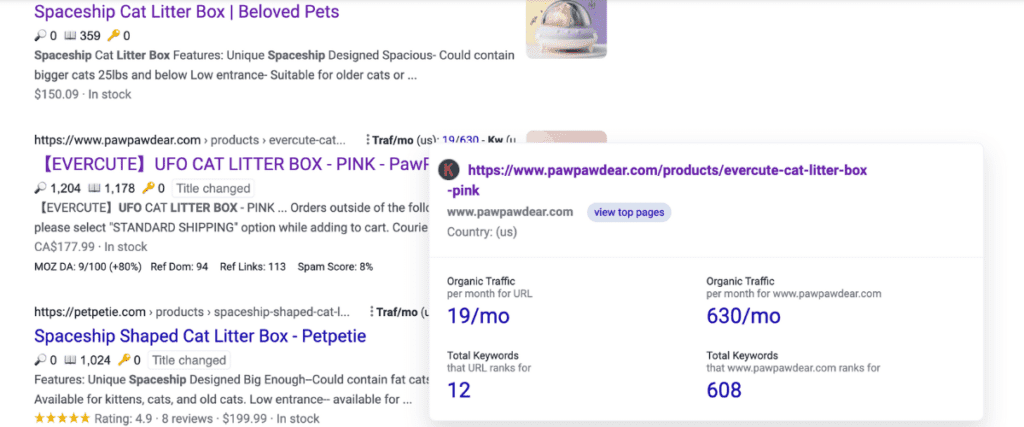 I know I could rank higher than these pages if I wrote more compelling and comprehensive content. I'll look at all the pages and then double what they are providing:
Write a much longer post with as much helpful content as possible. Include everything in the top posts and then some.

Include more relevant keywords and avoid keyword stuffing. For 1500 words, try to limit your focus keyword to 8 times total (1% or less).

Include proof terms and relevant terms for more keywords to improve

overall

semantic keyword density

.

Answer any questions visitors have asked in their comments.

Add video clips, images, downloadable PDF to be more dynamic.

Improve technical SEO – Compelling title and meta description using a tool like [AIOSEO]

. Add keywords in image alt titles. Include internal links, external links, and backlinks.

Ensure your content is exceptional and engages visitors. If not, your bounce rate (how fast people leave your site) will increase and your ranking will go down.
For this specific example, I see that most of the pages are about specific spaceship litter boxes. So I'd create a page that shares all the different spaceship litter boxes shared in the top 10 and more. I'd share pictures, reviews, pros & cons, and links to buy each box.
If you want to be in the top 10 search results, ask yourself: What can I do better? What unique offer can I provide?
Keyword stuffing is when you use the exact same keyword
multiple
times to increase your ranking for that phrase
.
While most SEO plug-ins will still recommend it, it is not necessary to include your focus keyword in your title, meta description, and URL anymore
.
Just
look next time you search for a keyword. Is the keyword in the title of all the top 10 search results?
Probably
not.
Google looks at your entire post.
According to a few SEO experts, the machine learning AI will often remove the searched keyword from your post and look for related keywords
. If it thinks you're stuffing keywords only for ranking, you can get penalized for that.
Keep your focus keyword to every 100 words or less (1% or less of your post). If you need to say it more, lean on your related keywords or pull out the thesaurus.
What's the Big Thing in Google SEO?
When you are learning SEO, it's easy to get overwhelmed with all the SEO factors you "should" be focusing on.
It's also challenging as Google uses a machine learning algorithm that adapts search results to every individual
.
You want to follow a holistic approach:
Write to a focus keyword and all its related keywords.

Think about search intentions and try to capture more than one. Your content is pointless if it doesn't capture the user's search intent.
You are creating a content hub: holistic content within a specific niche. You want to create content that people might want to share or return to.
Google's E-A-T algorithm stands for Expertise, Authoritativeness, and Trustworthiness. Google wants you to show all three. It isn't a ranking factor, but it
indirectly
impacts everything you do.
Different SEO professionals interpret how to follow E-A-T in different ways. To keep it simple, focus on
Longer posts (1500 words or more)

Related topics with proof and relevant terms
Focus on quality content with low competition keywords and you're on the path to a higher ranking.
How to Keep your Page Rankings
Once you get a page in the top 10 search results, it's up to you to keep it there. You'll want to
regularly
check your page against its competitors. Keep it up-to-date and edit any page with a high bound rate.
Sometimes changing a couple sentences and adding more original images is enough. Small changes will help your pages stay fresh for your audience and Google.
Do what you can to keep improving your rankings for each post and your
overall
domain.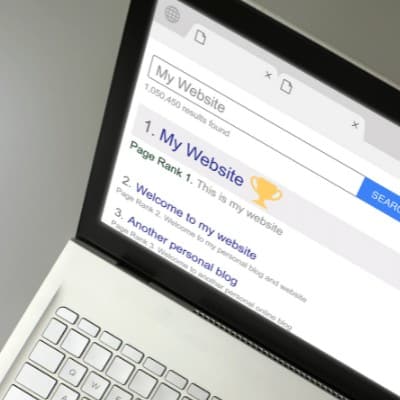 How to Rank with Technical SEO
Just having good content with solid keywords isn't enough. The technical factors of your website are also very important. Let's work through them.
Any internal link in one post can improve the ranking of another. If you have a popular post, get some of that SEO "juice" to spill over into other internal pages to improve overall rankings.
A key piece with links is that you don't want to push your SEO "juice" out to external websites. Don't give them the SEO you've worked so hard to build!
So how do you keep your SEO ranking "juice" to your website? Use DoFollow and NoFollow links.
DoFollow links are the default link. These will pass on link "juice" and are best for internal links.
Example of what a DoFollow link looks like:
You need to tell links to be NoFollow. These will not pass one any link "juice" and are best for external links and all affiliate links. Most tools will give you the option to mark your links as NoFollow link or you can add it to the HTML code.
All links are dofollow unless you actively add 'rel=nofollow' HTML tag.
Most WordPress themes give you check boxes to add the nofollow option.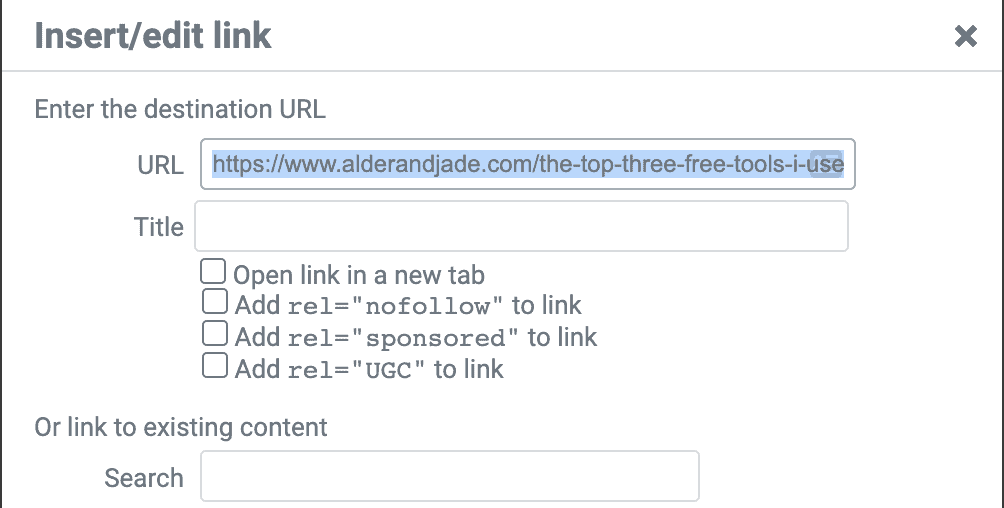 For all of your links, make sure they are for related keywords and not for your focus keyword. Otherwise you'll cause pages to compete against each other over the same focus keyword.
You want to have links on every page to improve SEO and overall expertise. So:
Add high authority external links at the end of the page as sources/references/etc.

Add more internal links to increase overall domain dwell time.
Make Every Link Open in a New Tab
Every link, whether internal or external should open in a blank page. This helps reduce your bounce rate and increases visitor time spent on your site.
Create your Own Meta Description and Meta Title
A meta description is what shows up under your title in search results. You should always provide your own meta description for every page and post.
Think of a meta description as a 150 character teaser to pull the user from the search engine to your website. While adding a keyword or two is good, it's more important to get clicks.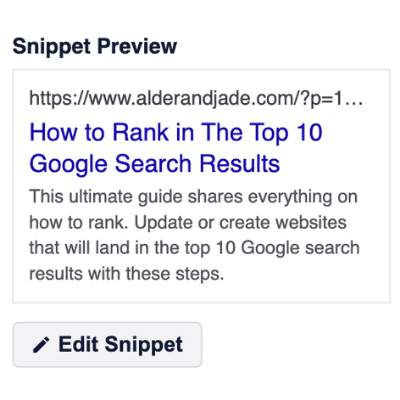 Google will sometimes pull the most relevant sentences from your post for the meta description. You have almost no control over what Google displays as a meta description, but it is still key to use it to your advantage.
Your title is another chance to tempt someone to click on your page. Remember that your incredible post doesn't matter at all if no one bothers to visit it!
Use a tool like AIOSEO or Headline Analyzer to ensure your title has the right combination of hook and promise to get clicks.
For more information, check out: How to Write Meta Descriptions for SEO (Boost CTR & Rankings)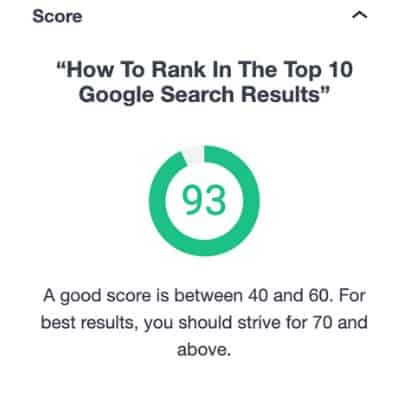 Add Rich Snippets When Possible
Use the paid version of a plug-in like AISEO to add rich snippets to your posts.
A rich snippet is additional information you share about your post that can be displayed in the search result. So instead of just the title and a 150 character description, there may be a star rating, or a date link, or something else specific to the post.
This "rich result" will help your post stand out and increase your click-through rate. See if you can spot the differences between these two search results. One is a normal meta title and description. The other has some rich snippets added:
Properly Structure Your Post
The more organized your page is, the better. Using heading tags will help your users and Google understand what your post is about and where to find the information they are looking for.
Generally each post should have the following headings:
One H1 – Main header that says what the post is about
A few H2 headings – Sections to break up the content
Multiple H3 and H4 sub-headings to further break up content and make it easy for your readers to skim.
Multiple numbered or bulleted lists to break up paragraphs.
Old-school SEO would have your focus keyword in the H1 and a couple sub-headings. You would put related keywords in other headings. This is still good practice, though not as necessary.
Keyword Optimize your Images
Use the file name, title, and alt text of each image to further improve your SEO. 
Describing your images helps search engines know what your images are about and is used by screen readers. So be accurate in your descriptions. But also take advantage of the additional room to add more keywords.
Google wants all sites to have HTTPS using 2048-bit key certificates. This means adding a TLS or SSL certificate to your domain.
Improved trust (especially for online stores)

Protects against phishing attacks

Search ranking bonus

Only have to implement once
Can be tricky to implement

May need more powerful hosting
Your domain hosting provider should offer a free SSL certificate. That's plenty for a passive income blog. Follow your hosting provider's guide and ask them for support if you run into trouble.
Your page load time is extremely important. You want a load time of 2 seconds or less on both your mobile and desktop sites. Depending on your niche, mobile may be 90% of your traffic so pay attention to that too.
A slow load time will decrease your conversion rate and increase your bounce rate dramatically.
Check the speed of your site and get free actionable steps from: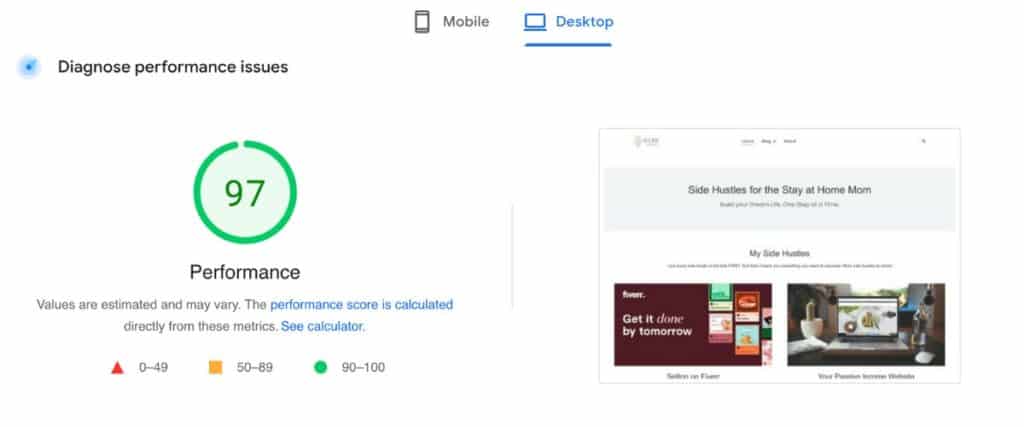 Speed Up Your Site with These General Steps
Compress all images

Minify & cache HTML, JS, and CSS files

Add an image CDN

Use a page speed optimized server and theme

Get rid of anything that isn't necessary for your site operation or user experience
How to do these steps will depend greatly on your expertise, your website set-up, and unique issues will come up. I can recommend some basics, but there are hour-long YouTube videos on how to do this. Check to see if your host or theme has a video as that will be most relevant to your site.
These Plugins Will Speed Up Your WordPress Site
WP Rocket – The ultimate caching tool that will shave off precious seconds, but it isn't free. It replaces the rest of the plugins listed here.
W3 Total Cache – The top free caching tool, which will improve overall speed with caching, minify files, and manage a CDN. It's not as fast as WP Rocket, but a huge improvement for no cost.
ShortPixel Image Optimizer – To compress all images. The limited free version will optimize 100 images a month. Pay $10 for a 10,000 image credit and you're likely set.
Debloat – To optimize or remove unused HTML, JS, and CSS files. Free!
And add a Cloudflare account (the free version). Most hosting providers offer this and it is best to set it up through your hosting provider. That way, you can lean on your provider for support if you run into trouble.
Speed Optimization Troubleshooting
As you work through improving your site speed, you'll want to regularly check your site to make sure you haven't broken anything. If something odd is happening:
Clear your cache (each caching plugin will explain how to do this, but it's usually an option along the top of your WordPress dashboard).

Roll back any changes you made until the issue is resolved. 

You may need to reload your page a few times and make sure you are looking at it from an incognito window!

Skip anything that causes issues with your theme.
You'll want to alert Google to check out your site. You do this by adding your site to the Google Search Console and providing Google with a site map.
The easiest way to do this is to use an SEO plugin like AIOSEO, short for All In One SEO.
AIOSEO will help you:
Connect to Google Search Console

Create and share standard and video sitemaps (video is only with paid version)

Rank faster by instantly notifying search engines of every change to your website with IndexNow (only with paid version)
I've used AIOSEO for over a decade and it is my go-to SEO plugin. While the paid version is excellent, the free version is more than enough to start.
Build Backlinks for Domain Authority
An SEO factor in building domain authority is having backlinks. These aren't nearly as important as they once were to Google and you can succeed without domain authority as long as you focus on low-competition keywords with high quality, optimized content. However, backlinks will give you a boost over time.
A few quick ways to build backlinks
Pin every post on Pinterest

Share every post on all of your social media channels

Make sure you have all of the sharing options on your site so visitors can share your posts too.
Two excellent backlink resources
I've done my best to distill the current SEO guidelines in this post. There is more nuance than I can provide in one post. However, if you do everything in this post, you'll be ranking in no time.
Find a niche with a variety of low competition keywords you can blog about and make money from.

Do your keyword research for those low competition keywords and related keywords.

Create high quality content that is more comprehensive (text, images, videos, links, etc) and user friendly than pages in the top 10 search results for your target keywords. Include your target and related keywords.

Structure your posts cleanly with headings and bullet points. 

Spend time on your title and meta description to get more clicks. Add rich snippets when possible.

Increase your overall site speed and get an SSL certificate.

Make sure your site is being indexed by Google.

Put in the time and be patient!
If you made it to the end of this post, congratulations! That was the culmination of weeks of research that I hope helps you be more successful from the start.