What if you could create that content 5x faster and easier than ever before? With Jasper AI, that's exactly what you can do.
Tired of wasting hours creating content that doesn't convert? It's hard to succeed in affiliate marketing without pushing out quality content often. You need blog posts, social media posts, videos, emails, you name it!
Jasper AI is the perfect tool for affiliate marketers. This artificial intelligence software helps you create high-quality, original, SEO-friendly content in minutes. And you won't sacrifice quality or accuracy.
I tried all the top AI copywriting tools and Jasper is the clear winner. Learn why in this post.
Sign up for a free trial of Jasper AI today and see how it can help you become a more successful affiliate marketer! With my link, you'll get 10,000 free credits to try out all of the templates.
What is Jasper AI and How Does it Work?
Jasper AI was originally called Jarvis, after Tony Stark's AI assistant in the Marvel movie Iron Man. Jarvis is trademarked by Marvel Characters Incorporated. Their lawyers got involved once Jarvis AI became super popular. Jasper AI came into being.
Jasper AI is a copywriting tool that uses artificial intelligence and machine learning. It helps you create high-quality content quickly and easily. It gives you many ways to do this:
• Templates
• Recipes
• Boss Mode
Templates are pre-set frameworks to create content.
Each template asks for the information it needs to give you a successful output. I find these are best for portions of my work, like an email headline, blog post outline, or product description. 
However, there are some templates that can be exceptional. I've shot whole videos from one output of the mini-VSL (video sales letter) template and I know many people use the content improver template often.
Recipes are templates you can adapt or create from scratch.
They will often ask similar questions with similar outputs as Templates, but you can alter the questions and the outputs to best suit your needs.
You can save your customized recipes to use again and again.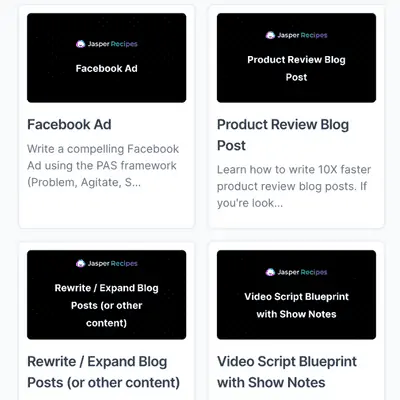 Boss mode pulls it all together and makes Jasper AI truly shine.
Think of Boss mode as writing in Google Docs with an AI assistant on the side.
You start with a blank document where you can create your own commands (recipes), pull in templates, or just let Jasper take a stab at your writing when you hit writers block.
Once I started using Jasper AI, I stopped writing in Google Docs.
Now I start everything (including this blog post) in Jasper. While I still do a lot of my own writing, I use Jasper heavily for first drafts, brainstorming, and moments when I hit writers block. I use it for blog posts, video scripts, emails, and rely on it heavily as a freelancer writing Amazon Listings for Amazon Sellers. It is a game changer for me.
How Jasper AI can help Affiliate Marketers
If you're in affiliate marketing, chances are you're always looking for ways to create content more quickly and efficiently. After all, quality content is essential to your success as an affiliate marketer. But creating quality content can be time-consuming – and if you're not careful, it can also be expensive.
Jasper AI can help you create high-quality content quickly and easily – without sacrificing quality or accuracy. Here's some of the things you can do:
Create content outlines
Write your first drafts
Improve your existing content
Create content for your social media accounts
Rapidly create email campaigns
With Jasper AI, you can get the help you need to produce content that will impress your readers and help you achieve your marketing goals.
For example, this entire section was written by Jasper. I made some slight edits, but otherwise this is ALL created by AI. I wrote the header, "How Jasper AI can help Affiliate Marketers," and then clicked the "compose" button within Jasper. Jasper did the rest in seconds!
Benefits of using Jasper AI for Affiliate Marketing
The primary benefit of a quality AI copywriting tool like Jasper is that you can quickly create high-quality original content. This is important for a few reasons:
First, it saves you time. You can use that time to do other things – like promote your content or work on other aspects of your business.
Second, it means you can produce more content. And as we all know, content is king. The more high-quality content you can produce, the better.
Third, it allows you to be more consistent with your content. Consistency is important for social media engagement and search engine optimization (SEO).
Fourth, it helps you build trust with your audience. If you can consistently produce high-quality content, your readers will come to trust you as a source of information – and they'll be more likely to buy from you when you promote products.
Finally, it can help you boost your conversions. If you use Jasper AI to create email campaigns or video sales letters (known as VSLs), you can increase your conversion rates and make more sales.
The Features that Make Jasper AI Worth It
There are quite a few features that make Jasper AI such a successful copywriting tool. Instead of digging into all of them, I'm listing the ones I use every day: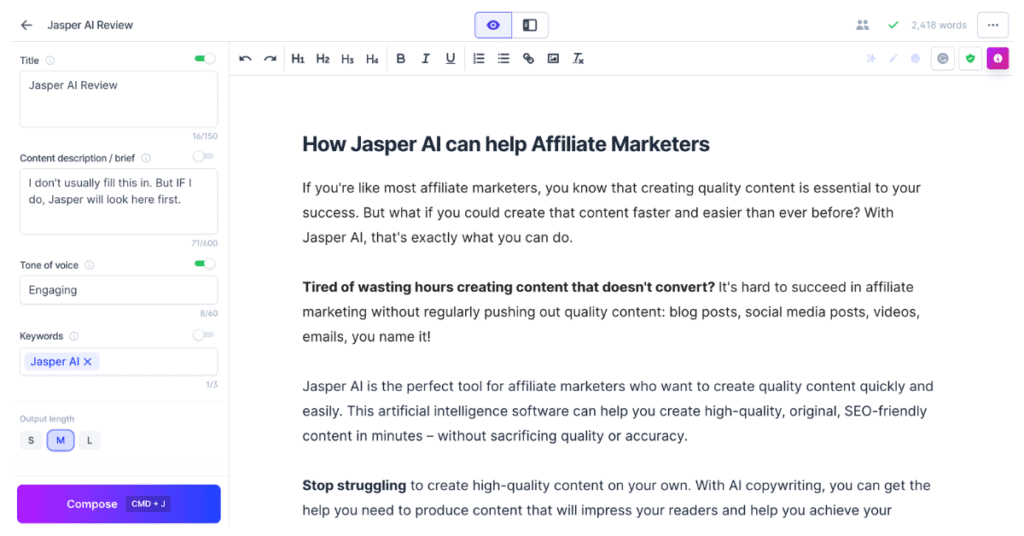 I start all of my content (blog posts, marketing emails, video scripts, etc.) in document editor. 
One of my favorite features is the ability to have Jasper finish my sentences or add to my existing content by simply pressing on the compose button (or key combo command + J). It is most handy after I've already written a couple paragraphs as Jasper will read the last 2,000 – 3,000 characters above where my cursor is and adapt to my writing style.
Commands within Document Editor
In addition to giving Jasper a go at continuing my existing work, I can give it specific commands.
To give a command, simply write what you want Jasper to do and press the key combo: command + enter. I like adding ">" in front of my commands, but it isn't necessary.
You can ask for anything, like:

>turn the above paragraph into an AIDA framework
>create a blog post outline for why Jasper AI is the best copywriting tool for affiliate marketers
>summarize this document for a conclusion paragraph
tweak your commands until you get exactly what YOU want!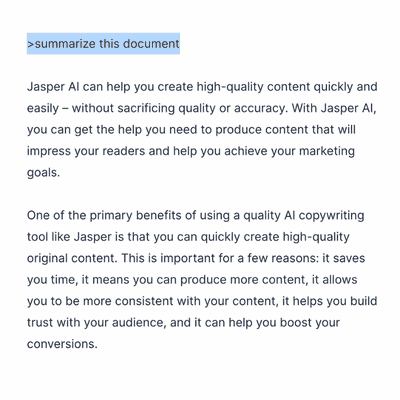 These are proven copywriting frameworks that I was taught for successful product marketing. Now I let Jasper do the heavy lifting: I copy and paste the product's existing description and pick the best of Jasper's pitches. I use these in blog posts and in writing Amazon Product Listings (there are great Amazon-specific templates too).
Mini-VSL (Video Sales Letter) Template
This is one of the newest templates and I can't get enough of it. Plug in your product details and you'll get pure marketing gold.

Content Improver Template
I think this template is often abused to copy full blog posts from others.
It does a remarkable job of turning existing content into something original and fresh. I use this when I have written a paragraph that doesn't read well, to rework my old content, and as another way to help my write Amazon Product Listings shine. It cleans up the product descriptions that are sent to me and gives me something better to work with.
I do not use this personally as I make sure to edit everything that Jasper provides me. I definitely recommend treating Jasper output as a rough draft and tweaking it yourself. Google rewards high quality output and, to do this right, you cannot just post AI outputs without any edits. 
But if you are concerned about plagiarism, Jasper has a built-in Plagiarism checker for an extra cost.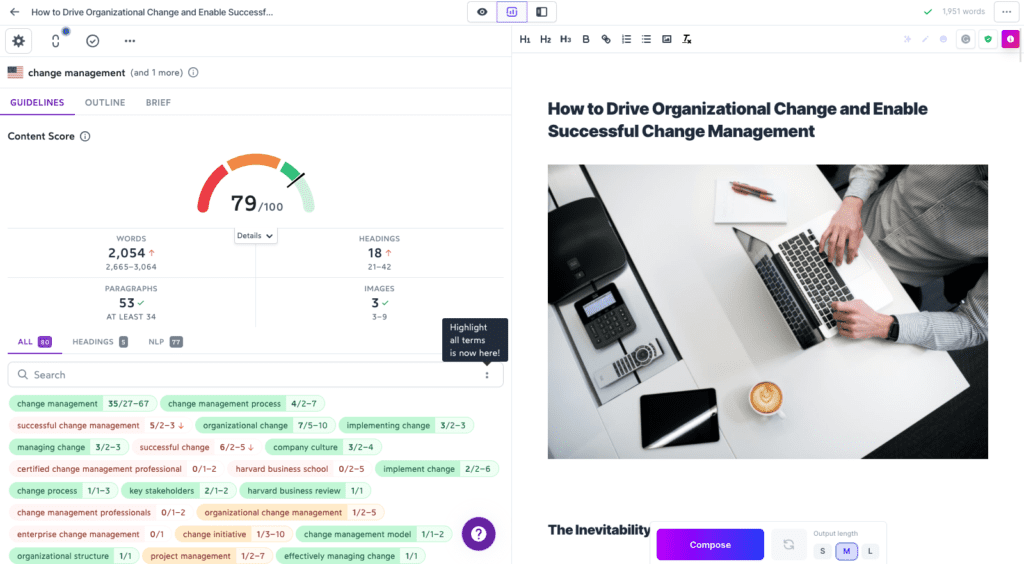 If you are looking to win the SEO game, Jasper not only integrates Surfer SEO right into your document creation, but it provides a full free course on how to create exceptionally well optimized content quickly and effectively.
Why Jasper AI over the other AI Copywriting Tools?
I tried out the top 5 AI copywriting tools and nothing came close to Jasper. I found myself spending MORE time correcting the content than it would have taken me to write the content on my own.
I think the main selling point of Jasper AI is the absolute freedom you get with Boss Mode. Instead of being limited to what the pre-set templates spit out, you forge your own path. You can start with a template, edit it, and let Jasper build upon your edits. Or start from scratch, incorporating templates, commands, and clicking that compose button as needed.
Jasper really is a tool that adapts to your needs.
The only other AI tool I feel confident recommending is WriteSonic. You can sign up for the WriteSonic free trial as well and compare the two for yourself. 
At this time, Writesonic is more structured than Jasper. They have templates to create full blog posts and rewrite articles, but you are more limited in what you can command the output to be.
That said, Writesonic is constantly improving and it looks like they are doing everything they can to emulate Jasper.
How Much Does Jasper AI Cost?
First. Start with my free trial offer for Jasper AI and get your 10,000 free credits! They will still ask for your credit card info so be sure to pay attention to the trial end date if you are just testing it out. 
It is KEY that you start with Boss Mode (slide the scale down so it is $49 per month instead of $99 per month). Starter Mode will only give you the templates, Boss Mode gives you the document editor and ultimate flexibility that makes Jasper worth it.
There are 2 pricing tiers along with a sliding scale within each:
Starter Mode – Just 50+ templates. Price starts at $24/mo for 20,000 words.
Boss Mode – Google Docs style editor with all of the commands, templates, SEO mode, and plagiarism checker. Price starts at $49/mo for 50,000 words.
Again, I wouldn't touch Starter Mode. It's too limited and is more expensive per word than Boss Mode.
Tips for using Jasper AI to its Fullest Potential
Once you get into Jasper AI, you'll want to play around to get a feel for it. There are a lot of excellent tutorials and you have a LOT of opportunity to try it all out with your 10,000 free credits. The more you play with it, the more you'll understand how incredible it really is.
Boss Mode Keyboard Shortcuts
As I keep saying, using the document editor is the best part of Jasper AI. Once in it, you can incorporate all templates and run your own commands using keyboard shortcuts. These shortcuts are as seared into my mind now much as copy and paste:
Write next sentence – Place your cursor where you want to generate text in your document and press:

command + J

Run a Jasper command – Write a command, place cursor at the end of the line and press:

command + enter

Run a Jasper command that doesn't delete the command – Write a command, place cursor at the end of the line and press:

command + shift + enter

Re-run the last generation to try for better content – This erases the last output so I usually just run the command again unless the first output was garbage:

command + /
If Jasper's first output is crap, just run it again. You may need to run the same command a few times until you get something you want. You can also tweak your command to be more specific, but I find that Jasper usually gives me something good within 3 outputs.
With templates, you can keep your credits if Jasper creates an output you don't want!
All you need to do is hit the "thumbs down" image on each output you don't want. Jasper will automatically remove that output and show you how many credits you were refunded.
Jasper can get into a cycle of repeating the same content if you rely too heavily on it.
Remember that it can read up to 3,000 characters above wherever you run it.
One key trick is to put *** below any content you don't want it to see.
I use this to hide my notes, switch topics, or just to make it start fresh.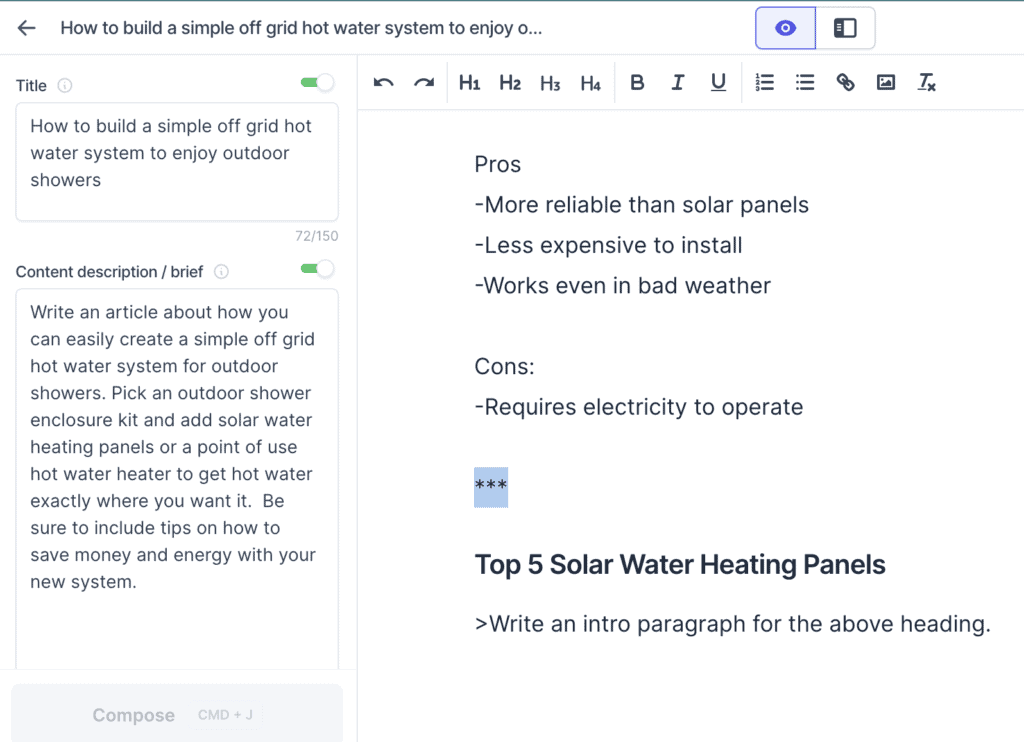 The output will only be as good as the input. You need to be clear on what you want.
If you tell Jasper to write 5 benefits of some product it has never heard of, it will just make crap up. If you give Jasper a quick rough description of that product with benefits and then ask the same thing, it will describe the product using the benefits appropriate to the product. It may add more benefits that it thinks aligns too.
Keep Your Tone of Voice Simple
You'll notice that Jasper will ask for a tone of voice.
If you write for a while first, it will simply mimic your own writing style. However, you can also tell it to write in a "witty" style or like "Oprah Winfrey" or whomever. You can give it celebrity names, moods ("uplifting"), or specific goals (like "persuasive").
Unless you are giving it a name, stick with ONE word. You'll confuse it if you ask for "witty persuasive."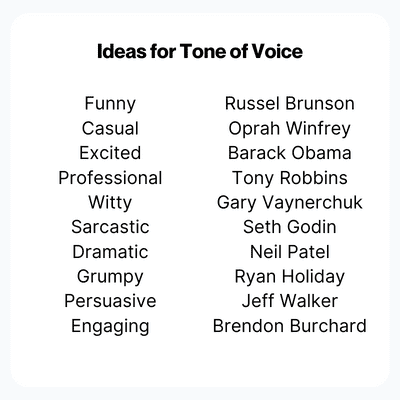 As an affiliate marketer, you know that creating quality content on a regular basis is essential to your success. AND you know that it can be difficult, time consuming, and draining to create all of this content on your own. Jasper AI can help you create high-quality content quickly and easily. Use a quality AI copywriting tool to get the help you need to impress your audience and achieve your marketing goals.
For more on ways to succeed in Affiliate Marketing, check out these posts: