Turn your buyers from one-time sales into lifetime customers. Some small tweaks and one key tactic make all the difference for this ultimate stay at home mom job.
Offer Upsells within Fiverr
Fiverr already offers ways to increase your income that you'll want to take advantage of:
Add Extra Service Options to Your Packages
Adding extra options is an easy way to increase your income. These will be unique to the gig you offer so think about what someone might be willing to pay more for. Add any options you come up with.
At a minimum, provide these extras:
Extra fast delivery – Offering to reduce your delivery window by a day can put an extra $10 dollars in your pocket.
Extra revisions – Buyers may not add this upfront, but it gives you a price to refer to if they ask for more revisions.
Subscriptions give buyers a small discount for any orders made within 3 months or 6 months. While it doesn't seem like an upsell, subscriptions will get you more sales. It motivates buyers to get in more orders during their discount window. You'll increase repeat sales.
Offer Extras During the Gig
When you are working on a gig, your buyer may ask for more than they paid for. Don't undersell yourself. Ask for more money! Click on the "offer more extras" link at the bottom at the bottom of your chat and create that upsell during the order.
Your Ultimate Upsell is at the End
After doing fantastic work for your buyer, you'll have a pretty good idea of tools or services they may need. Using affiliate marketing, you can roll this one sale into one or more affiliate sales. Here's how!
When delivering your final work, simply add a Thank You PDF. This PDF connects your customer to one of 3 upsells:
1 – An affiliate link you think is relevant for this customer.
2 – A useful post on your blog. Introduce your buyer to your blog where they may subscribe and click on affiliate links. This is where you can build your ultimate earning potential with passive income.
3 – The absolute best option is to collect your buyers email address. Offer a freebie (a how-to, cheat sheet, list of top tools, etc.) and send them to a landing page that will collect their email. In return, you email them that freebie. Now you have a warm lead you can send promotions and blog posts to. This fast-tracks you to building that passive income!
You can always change your offer. For now, make whichever PDF is easiest for you. Here's ho1
Start with my essential tool for everything visual, Canva. It has a limited free version and offers a 30 day free trial.
You can start from scratch or search for a Professional Thank You Template.
I'm going to use a template. Now I could change the picture and edit all the details, but you don't need to do all that. Add some text, a link, and download your clickable PDF! Check out how easy this is
Here are three variations to meet the three different upsell options:
For collecting emails, you'll need a landing page. This isn't any old page on your website, but a specific page to promote a specific thing. It shouldn't have a navigation bar or any other distractions.
ConvertKit is my go-to for landing pages. It is super easy to use with beautiful templates to choose from. It will give me a landing page I can use within minutes. I don't even need my own website. ConvertKit also helps me walk through all the next steps of what to do when someone actually signs up!
You want your landing page to match your PDF as closely as possible so it is a clean transition for your buyer. So, going with the PDF example, here's a super simple example landing page: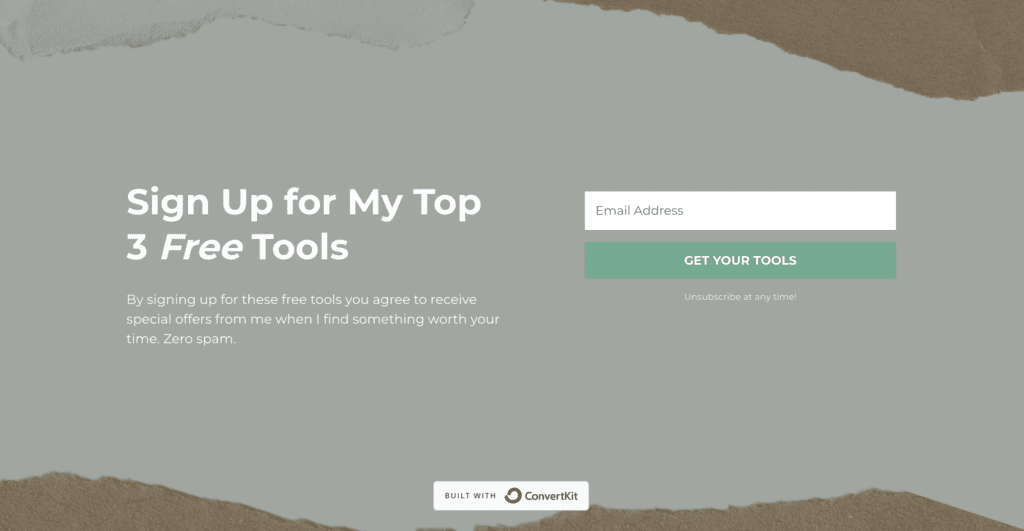 I usually spend more time on the copy and styling, but it really is this easy. ConvertKit will help you automate a response with whatever you want.
Don't worry if you don't have an email campaign. For now, set it up so you collect those emails. If you have gigs for different target audiences, make different landing pages that feed different email lists.
Once you start getting some email sign-ups, you can focus on that email campaign. Treat this as your long-term growth strategy. It will pay dividends.
Now you've turned this easy side hustle into more than a freelancing gig. It is an extension of your big picture side hustles from home. Be sure to build out your Fiverr Profile right from the start and get building!
I know this all can be a lot. Believe me, I'm right there with you! But commit to putting a little time toward your online side hustles every day and you'll get there. My son sometimes groans when I reach for my computer, but I'm proud to show him my progress and teach him what is possible. Now he asks me when he can start making money online!